"The only people you should allow in your life are the ones that prove they deserve to be."
                                                                                       — Xiumin
Kim Min Seok (김민석) or his stage name Xiu Min (시우민) is a member of Chinese-South Korean boyband EXO-M, EXO Chinese subgroup but his nationality is Korean. He had Chinese name Jin Min Shuo. In 2008, he was cast into S.M. Entertainment after winning second place in the S.M. Everysing Contest. On January 26, 2012 he became the seventh member that was formally introduced as an EXO-M member.
Real Name : Kim Min Seok (김민석) 
Stage Name : Xiu Min (시우민)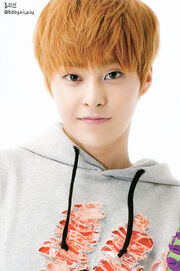 Chinese Name : Jin Min Shuo 
Nickname : Lil' Fattie (Little Fattie), Bao Zi (Little Bun), Golden Bun (by Luhan), and Steam Bun
Super Power (Badge) : Frost (Snowflake) 
Date of Birth : March 26, 1990
Star Sign : Aries 
Position :  Lead Vocalist, Lead Dancer
Height :  173 cm
Nationality :  Korean
Specialties :  Taekwondo, kendo
Bibliography
Edit
Xiumin (Chinese: 秀敏; pinyin: Xiùmǐn; Korean: 시우민), born Kim Min-seok (Korean: 김민석; Hanja: 金珉锡) on March 26, 1990 (age 23), is from Guri, Gyeonggi Province, South Korea. In 2008, at age 18, he was cast into S.M. Entertainment after winning second place in the S.M. Everysing Contest. Xiumin was formally introduced as the seventh member of Exo on January 26, 2012.[24] He also practices taekwondo and kendo.[22] Xiumin was featured on the music video of "Gone" by JIN, alongside actress Kim Yoo-jung.
Xiumin was the next member that known with martial arts beside Tao. He has been practicing taekwondo. In EXO-M, he is the neatest, strongest, funniest and cleanest member. Xiumin shares room with Kris and Luhan in Korea and shares room with Tao in China. He has a chubby face and a cute grin just like Wonder Girl's Sohee. Xiumin was mentioned in f(x)'s 'Pinocchio' "Thanks To" by f(x) member Amber. Xiumin's ideal type of woman is hug able and can comfort others.
Kim Minseok
Edit
Nationality: Korean
Height: 173 cm
[1]Nicknames: Mantou, Golden bun, Bun, Cute bun (came up with it by himself), Minmin, Dumpling (because he has slimmed down a lot), Big brother (or eldest brother), Baobao daren (t/n: 'Baobao' means bun [the 'bao' in 'baozi'] and 'daren' is used as a term of respect, such as for someone in charge), little squirrel
Role in the group: vocal, lead dancer, screaming (t/n: like the part in MAMA)
Specialty: Singing, Taekwondo, Fencing, Dancing, Soccer etc.
Favourite artistes: JJ Lin, Jay Chou
Ideal type: Affinity on first sight (t/n: aka he gets attracted to the other person's appearance and air on their first meeting). In the course of dating, someone who is able to give him hugs and take care of him, and give him comfort (If he sees someone that he likes, he will immediately confess to her)
Pre-debut experience: 2008 SM Everysing Contest 2nd place
Community content is available under
CC-BY-SA
unless otherwise noted.