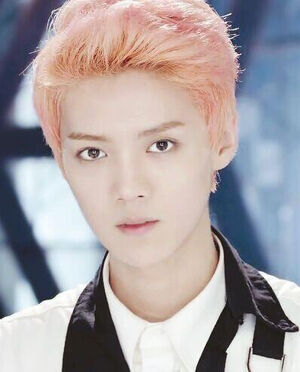 "D
o not give up your dreams and keep trying to reach them."
                                                      — Luhan
Lu Han (鹿晗) or his stage name Luhan (루한) is in the Chinese-South Korean boyband EXO, EXO-M subgroup. He graduated from the Beijing Shida Middle School and attended the Beijing Haidian Foreign Language Shi Yan School before leaving for South Korea to attend Yonsei University as an exchange student. Currently, he attends the Seoul Institute of the Arts majoring in Applied Music.
Real Name :Lu Han (鹿晗)
Stage Name : Luhan (루한)
Nickname : Marilyn Monroe, Cute Little Prince and lulu
Super Power (Badge) : Telekinesis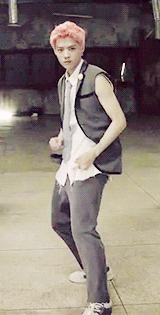 Birthplace : Haidian District, Beijing, China 
Date of Birth : April 20th 1990
Star Sign : Taurus 
Height : 178 cm , 5 ft 10
Nationality : Chinese
Position : Vocalist, Lead Dancer, Face of The Group
Specialties : Soccer, Rubix cube
Hobbies & Interests :

 Animation, art, video games, computers, racket sports, nature sports, basketball, football, music, concerts/clubs, television, animals, singing, and watching anime(like Tokyo Ghoul and Shingeki no Kyojin).
Favourite Colours: red , yellow, white and black
Bibliography
Edit
Lu Han (Chinese: 鹿晗; pinyin: Lù Hán; Korean: 루한), born on April 20, 1990 (age 28), is from Haidian District, Beijing, China. He graduated from the Beijing Shida Middle School and attended the boarding school, Beijing Haidian Foreign Language Shi Yan School, before leaving for South Korea to attend Yonsei University as an exchange student. Lu Han had auditioned for JYP Entertainment's Chinese global auditions in 2008,[26][27] but failed to get cast.
While studying in Seoul, Lu Han was scouted by an S.M. Entertainment casting agent, who recommended him to audition for the company's annual S.M. Casting System. His audition was successful, and Lu Han joined Exo in 2011. Lu was the second of the twelve Exo members to be formally introduced to the public, on December 27, 2011.[28] Along with Tao, Chen, and Exo-K's Kai, Lu Han made his first televised performance on SBS's Gayo Daejun event on December 29, 2011. Lu Han currently attends the Seoul Institute of the Arts majoring in Applied Music.
Lu Han is also associated with the promotional dance group, Younique Unit, with Exo-K's Kai.
Important Facts
Edit
He is the most fearful of the group, even denying
He wants to answer his Weibo fans, but his manager forbids him because of his tight schedule.
Luhan said he has not had his first French kiss yet.
In the MAMA MV Luhan's power is Telekinesis (using his mind to move / control objects).
Luhan is the 2nd member to be introduced of EXO by SM Entertaiment, on December 27, 2011.
His full name is Lu Han (루한/鹿晗).
Luhan is positioned as Lead Vocal, Visual and Lead Dancer, and is in the subgroup 'EXO-M'.
Luhan was born on 20 April, 1990.
His blood type is O.
Haidian, Beijing (China) is where he originally lives.
In 2008 he sang "I'm Letting You Go" and "In Love With The Future You".
Luhan and Xiumin will play soccer in the dorms.
When Luhan sleeps he has a habit of putting an arm under his pillow. He says it's more comfortable that way.
Luhan learned Wushu with Tao but twisted his wrist
Usually trainees from China are bullied, but Luhan wasn't because he's easy-going.
Luhan is pretty good at playing video games.
He could also solve the rubiks cube in 2 minutes.
Most of Luhan's fans are girls and most of Luhan's friends are girls.
The first time in BC, among the first to say 'hello' to Luhan is Lay.
Luhan's trainee period was about 18 months.
When Lay first met Luhan,  Lay said Luhan was a very friendly person.
Luhan never thought beef could be expensive until he went to Korea.
Luhan could do aegyo very cutely.
Luhan has a Weibo Account : weibo.com/u/1537790411
Luhan denied he was popular in highschool and said he was only 'slightly' famous in high school because he used to play football on the field, and sometimes the girls would gather to see him play.
Luhan said that he never received a love letter.
Luhan childhood dream was to become a famous soccer player, he also wanted to be a singer.
He was discovered by SM staff while shopping with a friend in the Myeongdong area. At that time he was an exchange student in Korea.
Luhan will not cry easily. When he's feeling down, he'll find somewhere to be alone.
Luhan doesn't get angry easily, and never holds grudges; he has a good temper.
Luhan likes horror and detective films.
When Luhan was in Junior High School, he usually sat at the last two rows.
He was a Chinese ulzzang.
Luhan has a bright personality.
Luhan likes to lean on Sehun's shoulder.
Lay said that Luhan will kick the person sleeping in his bed.
All members chose Luhan as a member of the prettiest in EXO-M.
Fans chose Luhan as a member who has a baby face.
Luhan's has a 'baby face', because of this he is thought to be younger than his actual age.
If Luhan could pick a cartoon character to describe himself, he would pick Son Goku from Dragon Ball.
Luhan is the 2nd most romantic of EXO members.
He is an expert in tongue twisters.
Luhan is voted as the laziest member as he is the last to wake up.
All of EXO-M members said that Luhan is the mood maker in the group.
Kris calls Luhan a "Cute Little Prince".
When EXO-M was on Happy Camp they were playing with the phone software "Ugly Meter". Ugly Meter is a software to determine how ugly they are. Luhan and scored 0.0 pts, which means he is very handsome.
According to Kris, Luhan was really popular in highschool.
At a showcase in China, Luhan's parents never came.
His favorite singers are JJ Lin, Jay Chou, Lee Hom and Yu Quan.
In Predebut Luhan has naturally curly hair, when it is long, it gets really curly and makes his head look big.
When EXO was in Disneyland, LA, Luhan's baseball skills were very good.
Luhan has acrophobia (extreme fear of heights).
Lay said that if Luhan would an animal, he would be a deer.
Luhan sometimes acts like a child, and he is quite proud of his flower boy image.
Luhan's style is just simple clothing.
Luhan doesn't like people touching his head.
Luhan favorite football team is Manchester United.
Luhan favorite soccer star is C.Ronaldo.
Luhan is a germaphobe, he won't even let someone sit on his bed.
Luhan likes eating ham, sausage and fried rice made by Lay.
Luhan would sometimes browse Tieba (china search engine) with Sehun.
Luhan is fan of Yunho of DBSK. Yunho treats Luhan well. He even helped Luhan with his dancing. 
Luhan takes care of his skin, especially on hot days.
When Luhan was in high school, he had his own fanclub. Some girls would even carve "I love you" messages on the poles.
Luhan loves mint flavoured ice cream.
Luhan is allergic to seafood.
Luhan wants to have a duet with Wang Lee Hom (One of his favorite singers).
When EXO's teasers were being released, Luhan was too afraid to go online and check people's responses.
Kris and Luhan pointed at each other when asked who has the best popularity among females.
Luhan said that he wanted to be a manly man and sexy, but his fans always say that he's cute.
Lay and Xiumin really love eating snacks, Luhan usually steal some of it.
According to Luhan , Kris was chosen to be the leader because he's caring and knows three languages.
Lay and Luhan attempted to do a Chinese Opera where Luhan played the Female role. Kris and Tao were laughing their heads off however Chen and Xiumin just sat down there looking clueless.
Sehun said that if he had a sister, he'd let her marry Luhan.
Luhan is smart, especially in Science and Math. But when once he messed up in a test and got a bad score he wrote the word "Hate" a couple hundred times on the test paper.
Luhan went to buy bubble tea with Kris once. Sehun found out and was angry about it for a few days.
He likes song "History" in Mama album. While in the XOXO album Luhan likes "Wolf".
The towel, that Luhan likes to wipe his sweat with, is white.
Luhan will play pranks on the manager.
Luhan and Sehun brought the same phone charm.
Luhan thinks he is the manliest out of EXO-M
Luhan's eyelashes are really thick and long.
Luhan is very shy on camera.
At an airport, Luhan crashed into the glass door because he was too immersed in conversation with Lay and didn't see it coming.
Luhan's dancing style is Popping, L.A Style
Luhan is fan of Donald Duck. He had an emotional breakdown when he saw him at DisneyLand.
Luhan's favourite football position is the striker.
Luhan's favourite animes are Dragon ball, Death Note, Naruto and Shingeki no Kyojin.
Luhan's favourite Sports are water sports, racket sports, nature sports, basketball, baseball and football, but he recently said that he likes all kinds of sport, except for sports that you do in the air (e.g. sky diving).
Nationality: Chinese
Height: 178 cm
Birthday: 20 April 1990
[1]Horoscope: Taurus
Role in the group: M's main vocal, lead dancer, face of the group
Pet phrase: "Yes." "When it's done." "This is it, I guess." "Yup." "Just like this."
Personality: Polite and humble, bright and lively, likes to laugh, loyal (mentioned on Happy Camp), low-key, positive, kind, childish but manly when the situation calls for it
Favourite genre of music: R&B, Hip Hop and ballades
Favourite colour: White
Favourite movie: The Shawshank Redemption
Favourite soccer team: Manchester United
Favourite stars: TVXQ, Bruno Mars, Usher, Akon
Community content is available under
CC-BY-SA
unless otherwise noted.