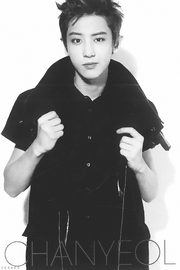 "No matter how hard it is, I always smile like an idiot." 
                                                  —  Chanyeol
Park Chan Yeol (박찬열) or better knows as Chanyeol (찬열) is a member of South Korean boyband EXO & it's Korean Subgroup [[1]] .On the 23 of January 2012, Chanyeol was the twelfth & last member of EXO to be revealed and formally introduced to the public. Chanyeol was cast into S.M. Entertainment through the S.M. Casting System in 2008, and made a brief appearance in TVXQ's music video, "HaHaHa Song" that same year with his bandmate EXO's Suho and Kai. Chanyeol is lead rapper in EXO-K. When he was in high school, he formed a temporary band with his high school classmates, and won second place in a televised modeling contest. In sixteen years old, Chanyeol was enrolled in a private acting institution.
Real Name : Park Chan Yeol (박찬열)
Stage Name : Chanyeol (찬열)
Nicknames : Wealthy Teeth, Happy Virus 
Super Power (Badge) : Flame (Phoenix)
Date of Birth: 27th November 1992
Star Sign: Sagittarius
Nationality : Korean
Height : 185 cm
Position : Vocalist, Lead Rapper
Specialties : Playing musical instruments (guitar, drum, bass, djembe), rap, and acting
Hobby :  Listening to Music, Writing Lyrics & Playing Musical Instruments
Favorite Color : Black
Favorite Number : 21
Bibliography
Edit
Park Chanyeol (Korean: 박찬열; Hanja: 朴燦烈), more often credited as simply Chanyeol, is the main rapper of the group.[11] Chanyeol was born on November 27, 1992 (age 21) in Seoul, South Korea. He attended Hyundai Chungun High School in Dong-gu, Ulsan and was admitted to a private acting institution when he was sixteen years old.[4] Chanyeol has been a fan of musical instruments since his primary school years and has cited the film School of Rock to be his main influence in inspiring him to learn the drums.
During middle school, Chanyeol formed the band "Heavy Noise" with his friends.[3] After winning second place in a televised uniform modeling contest in 2008,[12] Chanyeol successfully auditioned for S.M. Entertainment through the S.M. Casting System. During this time, he was involved in his school's band, "Seiren."[3] He made several media appearances prior to his debut with Exo, includingTVXQ's music video, "HaHaHa Song" with Suho and Kai in 2008, and in 2010, he starred in the music video of Girls' Generation Japanese single, "Genie". He was also featured in Girl's Generation TTS TWINKLE along with Kai, Sehun, And Baekhyun.
Chanyeol was the twelfth and last member of Exo to be formally introduced to the public, on February 23, 2012. He cites Jason Mraz and Eminem to be his biggest influences.[13] Chanyeol guest starred in the second episode of the 2013 sitcom, Royal Villa, with fellow member Sehun. He also appear in K.Will's M/V You Don't Know Love with actor Lee Hojung.
In 2010, Chanyeol starred in the music video of Girls' Generation Japanese single, "Genie". In 2012, Chanyeol also started in Music Video Girls Generation - TTS (Taeyeon, Tiffany, and Seohyun) 'Twinkel'. Chanyeol shares his room with EXO Baekhyun. Baekhyun said that Chanyeol's breathing is way too loud, and on top of that, he does this loud sniffling thing before he falls asleep. Chanyeol include a romantic person and bright guy with positive personality. Chanyeol had motto, which is 'Enjoy Yourself' and he had ideal type is someone cute, smiles a lot, and sincere. Chanyeol always passionate about playing and learning instruments. His habit is following the rhythm with his hands.
Chanyeol won second place award at the SMART Model Contest in 2008

Chanyeol played in several school bands: "Heavy Noise" during middle school and "Seiren" in high school

Chanyeol likes playing musical instruments, such as guitar, drums, bass, djembe (African drums)

Chanyeol studied at private acting institution and wants to pursue acting in future

Chanyeol likes reading self-help books

Before debut Chanyeol did a lot of voluntary service at halls for the elderly and welfare centers

Chanyeol was a short child and was a growth spurt in 3rd year of middle school, he stopped growing around two years ago

Chanyeol wants to do a toothpaste or gums medicine CF 

Chanyeol used to have a complex on his ears and since kindergarten he was often made fun of, but now he thinks they are part of his charm. Nevertheless he doesn't want to get them pierced

Because his teaser came out the latest, his mother and friends were worried and even expressed their worries if Chanyeol was kicked out of the group

Chanyeol admits that learning the choreography is most difficult for him

Chanyeol likes to practice rap in his room

Chanyeol's roommate is Baekhyun

When Chanyeol is tired, he takes walks by himself while listening to music

Chanyeol used to have a pet ferret when he was a kid and apparently joined some sort of the ferret club 

One of Chanyeol's favorite songs is Skrillex - "Bangarang"

Chanyeol is quite good in cooking

Chanyeol often hits his head in public transport because he's too tall

Chanyeol suffered from severe eyes' dryness, and the doctor said that it was because his eyes were too big and the eyelids couldn't cover the entire eyeball, so when he's too tired, he would sleep with his eyes open
Park Chanyeol
Edit
Nationality: Korean
Height: 186cm
Birthday: 27 November 1992
Horoscope: Sagittarius
[2]Role in the team: Rapper, face of the group, atmosphere maker, height, reactions
Ideal type: Someone who likes to smile, a girl who is easily amused by him
Ideal type height: 150-159cm
Typical style: hiphop, street, casual
Motto: Enjoy it!
Pre-debut experience: Was part of a school band for a year, dreamt of becoming a singer when he was in high school.
2008 TVXQ's UCC advertisements
2008 School Uniform Model Contest Silver Award
2008 SM Casting System
Appeared in TVXQ's Ha Ha Song MV
2010 Appeared in Girls' Generation's Genie Japanese MV as a male character
2012 Appeared in Girls' Generation's sub-group TaeTiSeo's Twinkle
Community content is available under
CC-BY-SA
unless otherwise noted.