November 22, 2013 - December 30, 2015
CL
Solo artist
Born
Lee Chaerin (이채린)
February 26, 1991
Seoul, South Korea
Labels
YG Entertainment (2006–present)
YGEX (2011–present)
Active
2006–present
Groups
2NE1 (leader)
CL & Minzy
CL (Lee Chae-rin, born February 26, 1991) is a South Korean rapper, singer, and leader of girl group 2NE1. CL was born in Seoul, South Korea, but spent her early life living in Japan and France where she learned English, Japanese, and French. In 2009, she debuted along with Bom, Dara, and Minzy as part of 2NE1.
Life and career
Edit
Early life
Edit
CL was born in Seoul, South Korea. Her father worked as a university professor in the area of physics. His nature of work led her family to move around to various countries, namely South Korea, Japan, and France. Because of this background, CL speaks two languages fluently (Korean and English) and two languages at a conversational level (Japanese and French). She moved back to South Korea and found permanent residence there. She auditioned for JYP Entertainment and was accepted as a trainee. From there, she auditioned for YG Entertainment where she was accepted in 2006.
2007–2008: Career beginnings
Edit
CL's first record appearance was an uncredited song featuring on Big Bang's "Hot Issue" in 2007. Later that year, she had her debut stage appearance at SBS' music awards alongside labelmates at YG Entertainment. In 2008, she rapped a featured spot on Uhm Jung Hwa's song "DJ". As part of YG Family, she appeared on YMGA's track "What".
2009–present: Debut with 2NE1
Edit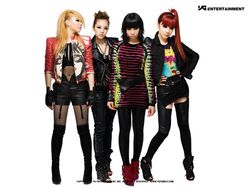 YG Entertainment announced a new girl group to debut in 2008. The group was to be named 21, but was changed last minute at the discovery of another singer with the same name. The group was to consist of CL, Bom, and Minzy, but actress Dara was added in as well. For the first song, the group collaborated with Big Bang. The song, titled "Lollipop", became the group's first in a long run of number one songs.
The official debut for the group came on May 6, 2009 with the song "Fire". The song spearheaded the debut album for the group, 1st Mini Album, released on July 8. Following the album release, the group enacted solo promotions. CL & Minzy was formed as a unit group along with Minzy. They released the song "Please Don't Go" which peaked at number six on the Gaon Chart.
2010 was marked by the release of To Anyone, the group's first full album. The album went on to sell over 150,000 copies. Following To Anyone came the 2nd Mini Album in 2011. 2011 was also the year of the group's Japanese debut with the mini album Nolza released in Japan on September 21.
The quartet's first Japanese album Collection was released on March 28, 2012.
In her early solo activities, CL was used as a rapper. Following her debut with 2NE1, CL often switches between rapping and singing in hip hop, dance, and R&B music. She has written raps for selected featurings in songs as well, such as her rap for G-Dragon's "The Leaders".
Image and style
Edit
CL has been labeled as a fashion leader in South Korea, comparable to Big Bang leader G-Dragon in terms of originality and style.
Influences and inspirations
Edit
CL is the rapper of 2NE1. She predominately is influenced by dance and rap music. In her inspirations, she frequently cites 1TYM leader and 2NE1 producer Teddy and American musician Madonna. She also has stated influence from singer Uhm Jung Hwa and American singer Beyoncé.
Discography
Edit
Main article: 2NE1 discography
Featured singles
Edit
Featured appearances
Edit
Community content is available under
CC-BY-SA
unless otherwise noted.